Technology Department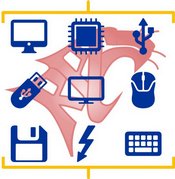 IT Department
Welcome to Information Technology Department,
Rock Point Community School Technology Goals:
GOAL 1: TO DEVELOP AND IMPLEMENT AN EFFECTIVE ON-GOING PROFESSIONAL LEARNING PLAN TO REDEFINE LEARNING IN A TECHNOLOGY DRIVEN WORLD.

GOAL 2: CREATE, PROMOTE, AND SUSTAIN AN INNOVATIVE DIGITAL LEARNING CULTURE.

GOAL 3: CONTINUOUSLY IMPROVE THE ORGANIZATION THROUGH THE EFFECTIVE USE OF INFORMATION AND TECHNOLOGY RESOURCES.

GOAL 4: FOSTER AND SUSTAIN A SAFE, SECURE, AND PRIVATE DIGITAL ENVIRONMENT.
Information Technology (IT) Staff:
Erin Toadlena – 928.659.4221 – Ext. 112
Technology Specialist
Chandler Wilson – 928.659.4221 – Ext. 113
Technology Assistant