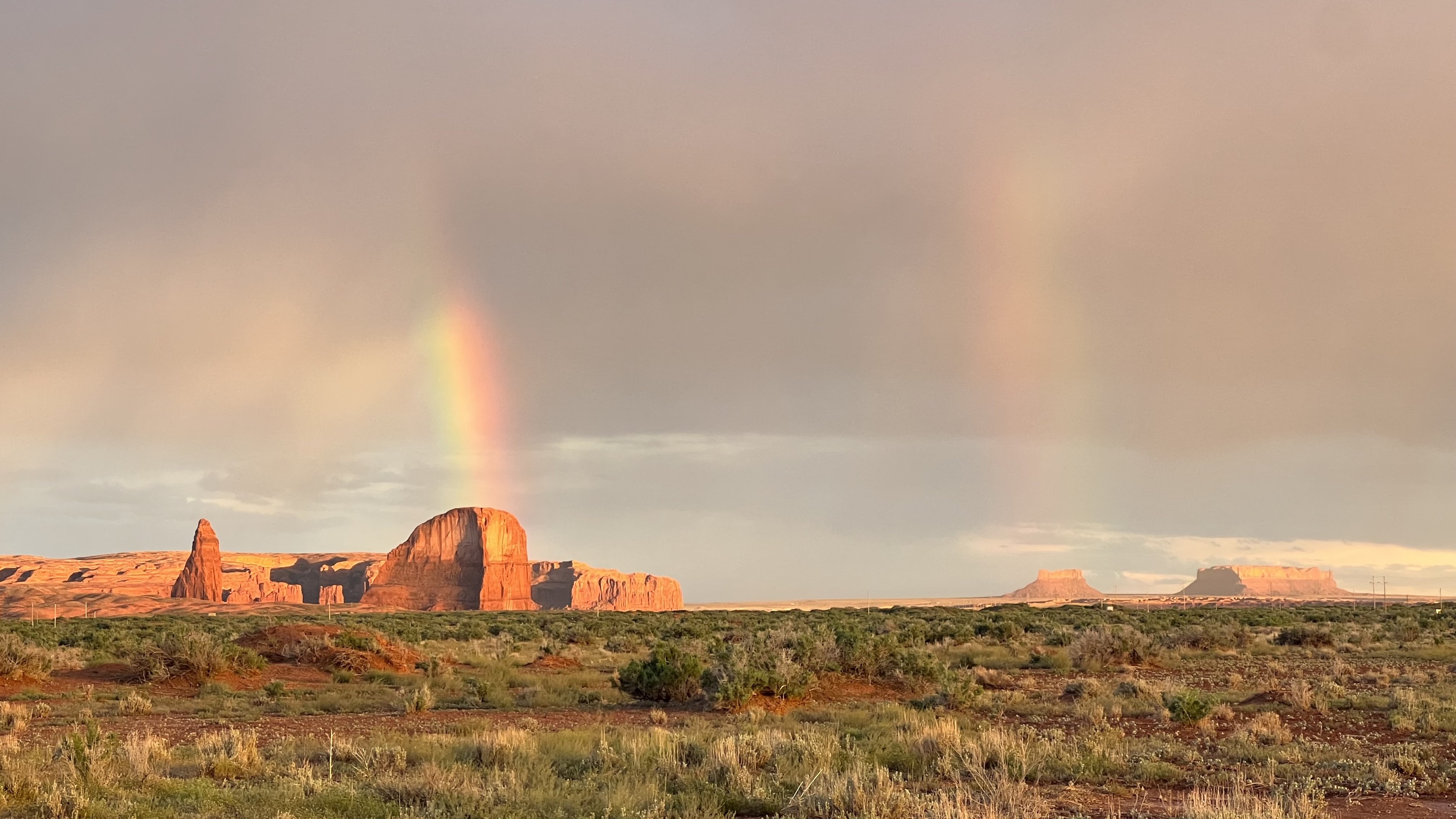 Family Partnership Contact List
New Families
for SY 23-24 Enrollment - Your family is NEW to RPCS and you didn't have children attend RPCS before. This is the first time any of your children are attending RPCS.
Annual Update
for 23-24 Enrollment - Your children were enrolled in RPCS in previous years and are continuing at RPCS. You will use Campus Parent app or website. You will need your login credentials.
Title I Parent Involvement
August 05, 2021
Yá'á't'ééh Amá, Azhé'é, Da'niséhí (Greeting Parents & Guardians),
Rock Point Community School (RPCS) receives funds under Title I of the Every Student Succeeds Act, the education law of the United States. Under this law, RPCS is required to notify parents of their right-to-know information about the professional qualifications of your child's teachers.
You are allowed to request the following information about your child's teachers and the school must respond appropriately in a timely manner:
''(i) Whether the student's teacher— (ESEA, Section 1112(e) (1) (A-B))
''(I) has met State qualification and licensing criteria for the grade levels and subject areas in which the teacher provides instruction;
''(II) is teaching under emergency or other provisional status through which State qualification or licensing criteria have been waived; and
''(III) is teaching in the field of discipline of the certification of the teacher.
''(ii) Whether the child is provided services by paraprofessionals and, if so, their qualifications.
You also have the right-to-know the level of achievement and academic growth of your child on state academic assessment.
Further, you also have the right-to-know if your child is assigned for four consecutive weeks, a teacher that does not meet minimum state certification or licensure requirements.
If you have questions regarding this letter, please stop by the school and talk with our Family Partnership Coordinator. Thank you!
Family Partnership Program
Rock Point School District and its governing board honors the diversity of families and recognizes the important role parents, guardians and families play in the education of their children.

Multiple studies show that positive parental involvement is essential to student achievement, therefore RPCS encourages such involvement and collaboration, to increase student achievement.
Students of homeless individuals and unaccompanied homeless youth (youth not in the physical custody of a parent/guardian) residing in the Rock Point Community School district shall have equal access to the public-school educational programs and services, which allows them to meet the same challenging state academic standards to which all students are held. Homeless students and youth are not required to attend a separate school or program for homeless students and will not be stigmatized by school personnel.
The term "homeless students and unaccompanied youths" means individuals who lack a fixed, regular, and adequate nighttime residence due to loss of housing, economic hardship, or similar reason. It includes students and youths (preschool-grade 12) who are:

Living in an emergency shelter or transitional housing.

Living in motels, hotels, or campgrounds due to lack of alternative adequate accommodations.

Living in cars, parks, public or private spaces not designed for humans to live, abandoned buildings, substandard housing, bus stations, train stations, or similar settings.

"Doubled up" by living with friends or family; or

Living in unsuitable conditions, such as lack of utilities, mold, infestations, or other dangers.
Migratory students and unaccompanied youth (youth not in the physical custody of a parent/guardian) may be considered homeless if they meet the above definition.
Homeless status is determined in cooperation with the parent/guardian, or in the case of unaccompanied youth, the school parent liaison.
School Selection- Placement in a school shall be in the student's best interest.

The student's education may continue in the school of origin for the duration of homelessness and/or in any case in which a family becomes homeless between academic years or during an academic year, or for the duration of the academic year, if the student becomes permanently housed during an academic year.

The student may enroll in a school that non-homeless students who live in the attendance area in which the student is living are eligible to attend.
The school of origin means the school the student attended when permanently housed or the school in which the student was last enrolled, including a preschool and the designated receiving school at the next grade level for feeder schools.
In determining the best interests of the student, the student will be kept in the school of origin, except when doing so is contrary to the wishes of the student's parent/guardian, for the duration of the homelessness. Student-centered factors will be considered, including the impact of mobility on achievement, education, health, and safety.
In the case of unaccompanied youth, the parent liaison or designee will assist in placement or enrollment decisions considering the requests of such unaccompanied youth.
If the district determines it is not in the student's best interest to attend the school of origin or the school requested by the parent/guardian or youth, the district must provide a written explanation of the reason(s) for its determination, in a manner and form understandable to such parent/guardian, or unaccompanied youth, including information regarding the right to appeal.
Enrollment -The school will immediately enroll the student/youth, even if the student lacks required documents, immunization records, has missed application or enrollment deadlines, had outstanding fees, fines, or absences, or applies without a parent/guardian.
The term "enroll" and "enrollment" are defined as attending school and participating fully in school activities.
Comparable Services - Each homeless student or youth will be provided services comparable to services offered to other students in the school selected, such as:

Preschool programs

Transportation services

Educational services for which the student meets eligibility criteria, such as ELL or special education programs.

Programs for at-risk students

Programs and courses for talented and gifted students

School nutrition programs

Title I Services

Before and after-school programs

Tutoring programs

Summer school programs

Online learning

Extracurricular activities
Transportation and School Meals- At the request of the parent/guardian or unaccompanied youth, transportation will be provided by the district for the homeless student(s) to and from the school of origin until the end of the school year, even if permanent housing is found.
Homeless students are automatically eligible for free school meals for the remainder of that given school year.
Homeless Liaison or Designee -The district will designate a McKinney-Vento liaison. The homeless liaison or designee will ensure:

Homeless students are voluntarily identified by school personnel and through coordination with other entities and agencies.

Homeless students enroll in and have a full and equal opportunity to succeed in schools in the district.

Homeless families/students receive educational services for which they are eligible and referrals to other appropriate services.

The parent/guardian of homeless students and any unaccompanied homeless youth are informed of educational and related opportunities available to them and provided with meaningful opportunities to participate in the education of the student/youth.

Public notice of the educational rights of homeless students is disseminated in such public places as schools, meal sites, shelters and other locations frequented by low-income families.

There is compliance with all policies and procedures and mediate enrollment disputes.

The parent/guardian of homeless students or youth and unaccompanied youth are informed of all transportation services, including transportation to the school of origin.

Ensures the coordination of services between the district and other homeless family service providers.

Assistance is provided to students who do not have immunizations or immunizations medical records.

Students are not segregated based on their status as homeless.

Programs for homeless students are coordinated with other federal and local programs.

There is support for academic success, including credit accrual and transition to higher education.
Disputes -If the parent/guardian or unaccompanied youth disputes the school assignment determined by the district, the student shall be immediately enrolled in the school in which enrollment is sought, pending resolution of the dispute. Disputes shall be resolved as expeditiously as possible.
With these principles in mind, allowable usages of set aside funds may include, but are not limited to:
Items of clothing, particularly, if necessary, to meet a school's dress or uniform requirement

clothing and shoes necessary to participate in physical education classes

student fees that are necessary to participate in the general education program

personal school supplies

birth certificates necessary to enroll in school

immunizations

food

medical and dental services

eyeglasses and hearing aids

motels, and other temporary residences

extended learning time (before and after school, Saturday classes, summer school) to compensate for lack of quiet time for homework in shelters or other overcrowded living conditions

tutoring services, especially in shelters or other locations where homeless students live

parental involvement specifically oriented to reaching out to parents of homeless students

fees for Advanced Placement (AP) and International Baccalaureate (IB) testing

fees for college entrance exams such as the SAT or ACT; and

GED testing for school-age students (ED, 2017, pp. 40-41); counseling services to address anxiety related to homelessness that is impeding learning

outreach services to students living in shelters
*National Center for Homeless Education (2018, Aug 3rd). Serving Students Experiencing Homelessness under Title I, Part A. Retrieved from https://nche.ed.gov/downloads/briefs/titlei.pdf.