ROCK POINT LADY COUGARS ARE 2022 AIA GIRLS VOLLEYBALL 1A STATE CHAMPIONS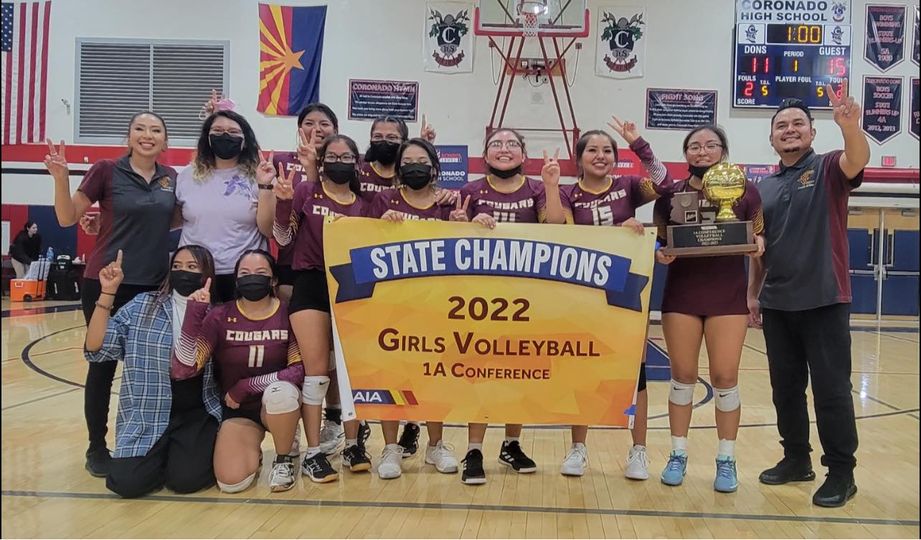 ---
Scottsdale, Arizona, November 05, 2022 - Tsé Nitsaa Deez'áhí Diné Bi'ólta' at'ééké jooł nabíznílts'injí Hoozdoh Hahoodzooíjí atsijį' anáánáákai. Naakidi ałkéé' azlį́į́' ałkéé' yihah biyijį'. Doo ládó' baa áhá hasin da!
Rock Point Lady Cougars Volleyball squad, being the visiting team are back-to-back 1A State Champions as they defeat top seeded Williams Lady Vikings 3 sets to 2.
This was the third meeting between the two teams as Rock Point ends the season with a 2-1 lead. The last meeting between them, Rock Point outlasted Williams 3-1 in the North-Canyon Super Regional Championship game.
A year ago tomorrow, Rock Point became state volleyball champions for the first time in school history in the same gymnasium. Though Rock Point was the designated visiting team, the crowd made it feel like we were on
Melvin Arthur Court
! COUGAR FANS ARE LOUD AND PROUD!!
Congratulations Rock Point Lady Cougars, coaching staff, RPCS, Rock Point Community, and of course, COUGAR FANS!!
1 Court
3 Touches
2 Teams
25 points
1 Champion
Your Lady Cougars
Photo Credit: RPCS AD. CWilson